MPHS's Andrew Bova Selected for 2020 All-National Honor Ensembles Virtual Event on January 7–8, 2021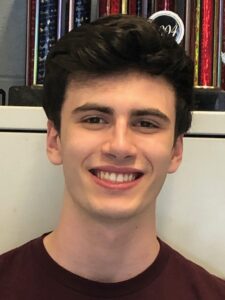 MILLER PLACE, NEW YORK (JANUARY 2021)—Miller Place High School senior Andrew Bova was selected among 552 student musicians in the United States to perform in the National Association for Music Education (NAfME) 2020 All-National Honor Ensembles (ANHE) Virtual Event on January 7–8, 2021. Each ensemble will create a final, recorded performance that will be premiered online during the NAfME Music in Our Schools Month® in March 2021.
Andrew, who was chosen through an audition process, will be rehearsing a challenging repertoire in preparation for performing under the direction of six of the most prominent conductors in the United States: Frances Fonza (Mixed Choir); Nobuyoshi Yasuda (Symphony Orchestra); Rodney Dorsey (Concert Band); Todd Stoll with Terell Stafford (Jazz Ensemble); Chuck Hulihan (Guitar Ensemble); and Tony Sauza (Modern Band). The All-National Honor Ensembles consist of a concert band, symphony orchestra, mixed choir, jazz ensemble, guitar ensemble, and modern band. The concert band and symphony orchestra will each have 120 instrumentalists, the jazz ensemble 13 instrumentalists, the mixed choir 241 vocalists, the guitar ensemble 45 instrumentalists, and the modern band 13 performers.
During his time in the District, Andrew has participated in numerous All-County music festivals, was chosen to participate in the 2019 New York All-State Vocal Jazz Ensemble and has starred in several MPHS musical theatre productions. Upon graduation this year, Andrew intends on studying acting/musical theater while attending college next fall.