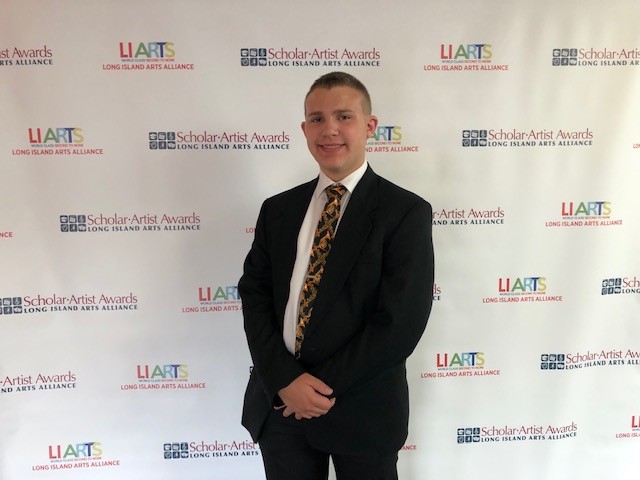 Miller Place, N.Y. (September 2019)—Miller Place School District is excited to announce Larry Davis, a senior at Miller Place High School, is the recipient of the Long Island Scholar Artist Award of Merit for Music. The Long Island Arts Alliance (LIAA) recognized Larry among other select students deemed the "best of the best" in the Class of 2020 at the LIAA Induction Ceremony held at Long Island University on September 11, 2019.
"Larry is a remarkable student and musician, and we are incredibly proud of his accomplishments," said Dr. Marianne Cartisano, superintendent of Miller Place School District. "The District aims to encourage students to embrace what they are passionate about, utilizing that passion to become the best that they can be. Larry is a role model for all our students and the community, showing dedication and passion in all that he does."
While in the high school, Larry has been involved in the MPHS Symphonic Band as a horn musician and is a trumpet player in the MPHS Instrumental Jazz Ensemble. Larry also was recently selected as a member of the New York All-State Symphonic Band and will serve as a representative of MPSD at the All-State Conference this coming December.
The Long Island Arts Alliance (LIAA) is an alliance of and for the region's not-for-profit arts, cultural and arts education organizations. Formed in 2003, LIAA promotes awareness of and participation in Long Island's world-class arts and cultural institutions. LIAA is an organization that truly serves the community, as they offer leadership and diverse support services to arts organizations, serve as an advocate for arts education in our schools and collaborate on strategies for economic development and community revitalization. ​