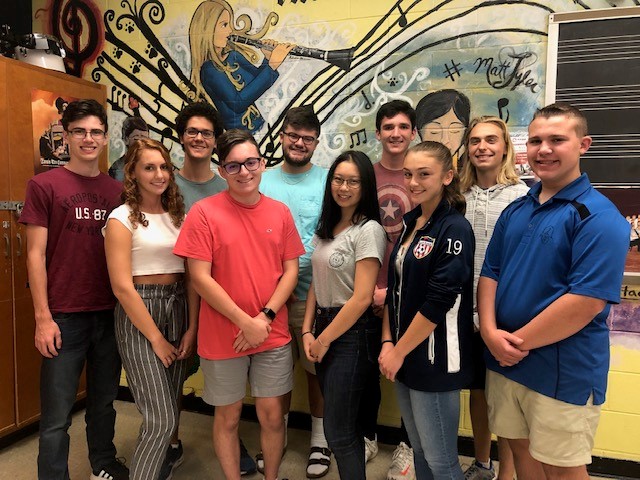 Miller Place, N.Y. (September 2019)—Miller Place School District (MPSD) is thrilled to announce that ten of it musically gifted students have been selected as either a participant or alternate in the New York All-State Music Festival. Chosen for their musical talent and excellence, these students will collaborate with numerous other NYS high school musicians to advance and hone their skills.
"We are extremely impressed by the amount of talent that exists in our student body. These ten students are shining examples of the passion and work ethic we attempt to instill in our students," said Dr. Marianne Cartisano, superintendent of Miller Place School District. "I'd like to extend my congratulations to everyone chosen for the New York All-State Music Festival. Their drive and dedication are truly something to be amazed by."
The MPHS students chosen as participants by NYSSMA this year are Andrew Bova, vocal jazz; Larry Davis, symphonic band; and Will Dunlop, symphonic orchestra. Alternates are Emma Davis, instrumental jazz; John Mari, band; Jodie Cui, orchestra; Marianna Kalin, band; Patrick Serrentino, instrumental jazz; Jack Schiefer, instrumental jazz and band; and Wade Tucker, band.
These gifted individuals were chosen based on their performances at the New York State School Music Association (NYSSMA) in the Spring. Students prepared a solo to perform in front of a NYSSMA certified All-State adjudicator who evaluates the performance. Every student who earns a score between 98 and 100 is recommended for All-State consideration. The New York All-State Music Festival will take place from December 5 to December 8 in Rochester, N.Y. 
NYSSMA is an organization committed to advancing music education across New York State. As New York's most significant professional force in music education, NYSSMA holds numerous festivals, exhibits and events throughout the scholastic year with over 100,000 students participating annually in Spring adjudication festivals around N.Y. NYSSMA is considered the largest and most successful National Association for Music Education (NAfME) state unit in the country. 
For more information about the Miller Place School District, please visit the District's website at www.millerplace.k12.ny.us.'Like' our Facebook page: @MillerPlaceSchoolDistrict.